Announcements
Stark opens its doors to the Public Library
All about the Public Library launch, our acquisition of a11yresource, and how we're setting out to help shape the future of accessibility education and community.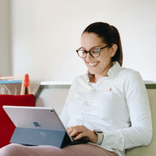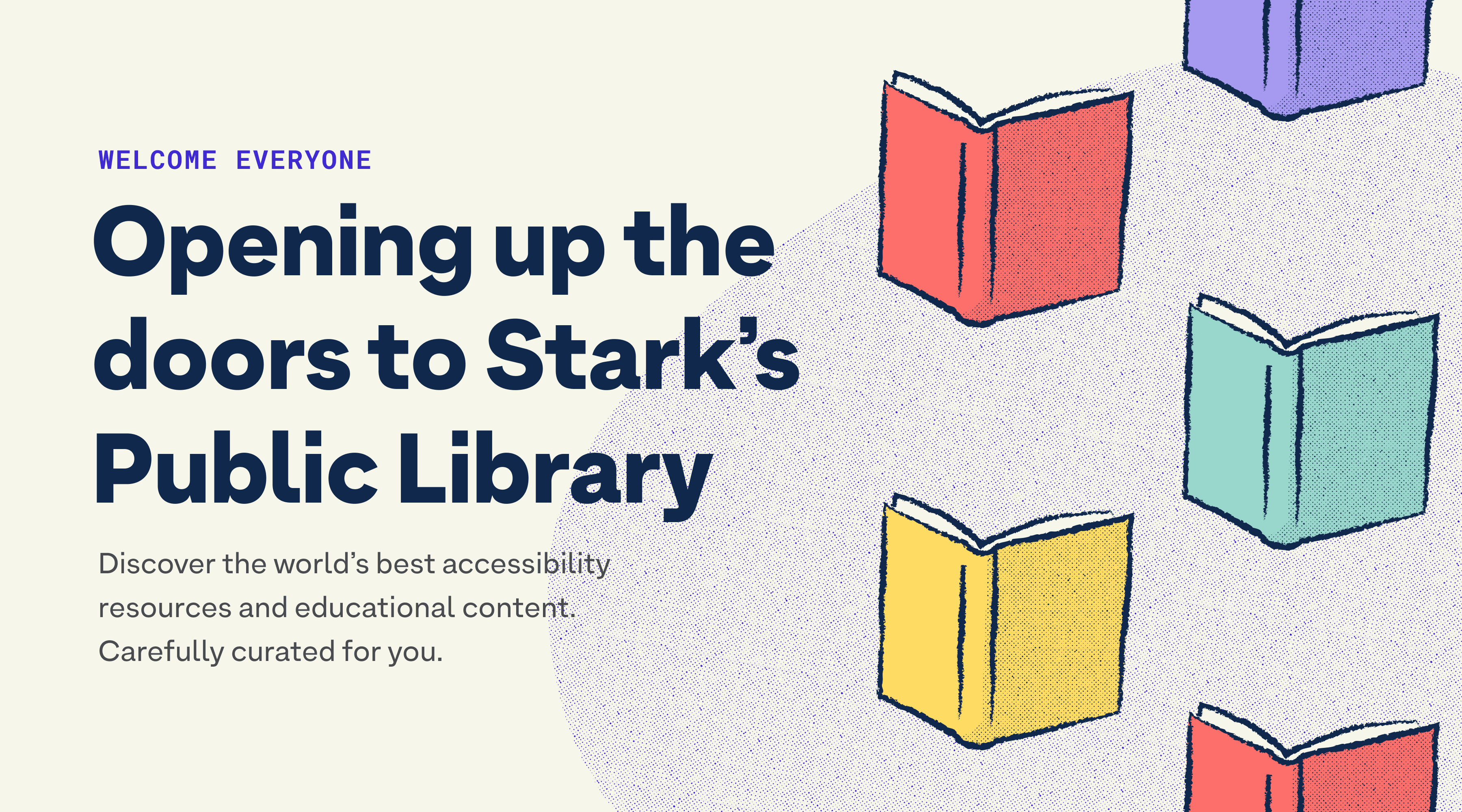 Today we're thrilled to open up the virtual doors to our Public Library and what, in turn, is the largest, centralized accessibility resource on the internet. With that we're also so excited to announce that in order to make this happen as soon as we did, we've acquired Hannah Milan's a11yresources.
Hannah has come on board to starkify the library over the past weeks and work on a number of other incredible resources coming your way. After seeing the various accessibility efforts Hannah has worked on over the last year, her fierce advocacy for Stark, contributions to our community as a whole, and absolute love for the craft of design we knew a11yresources and Hannah would be the perfect fit to expand Stark's world and product offering.
Starting today, with V1 of Stark's Public Library, you'll find yourself able to navigate the ~1,000 carefully curated accessibility content we've aggregated from all over the internet—from articles and tools, to courses and guides. And it all covers a spectrum of topics like Gaming, Software & Tools, Standards, and more.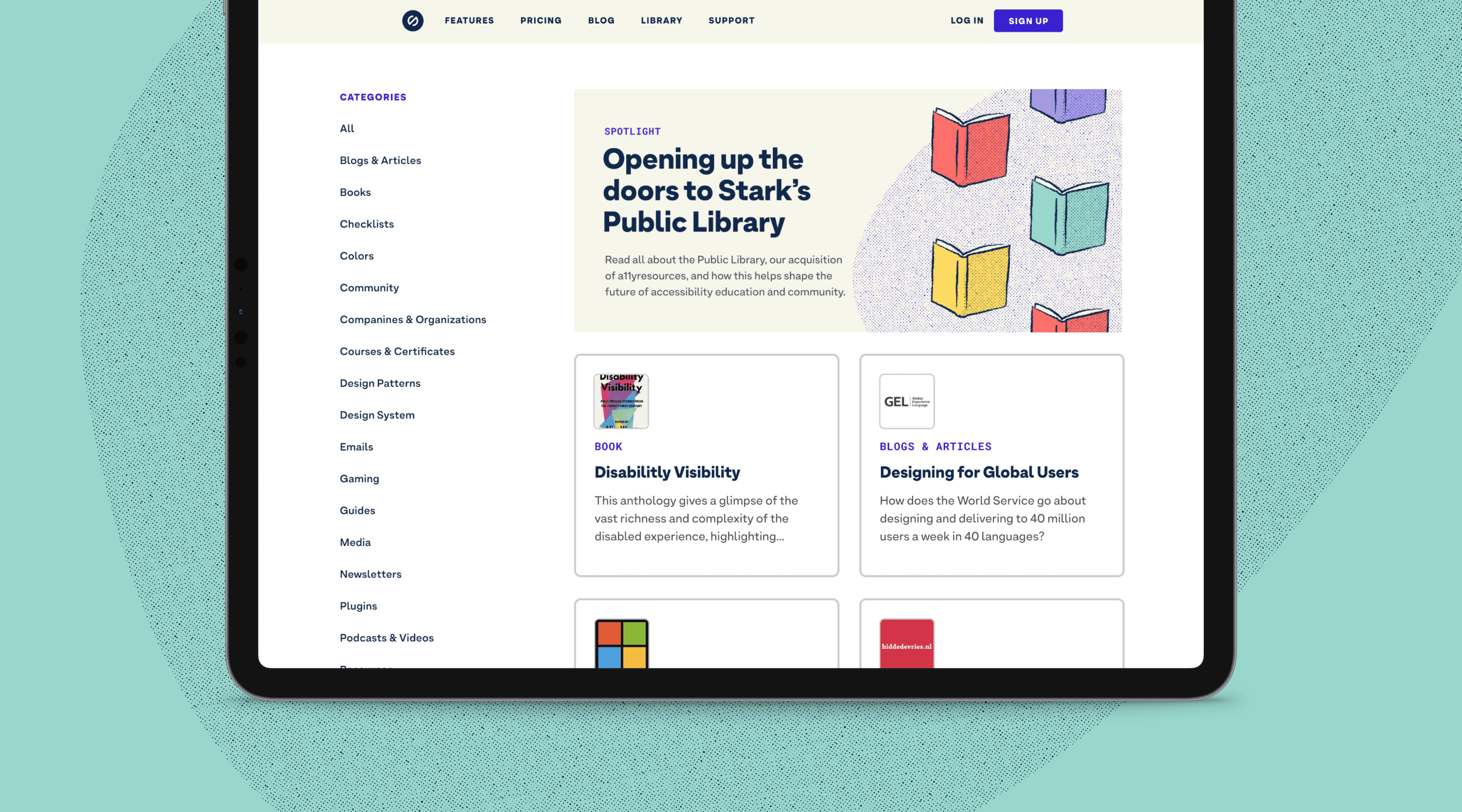 In our digital world, everyone can consume content virtually anywhere right on a whim. And that applies to the accessibility space as well. Yet, the necessary and human readable information and standards still sit with a small group of people (which we like to call the Bureaucratic Gatekeepers). What's more, the ability to actually find the accurate and relevant information quickly on the internet is difficult. This needed to change!
Our first pillar was always to build advanced technology that is beautiful, ensures your work is meeting accessibility compliance, and in turn optimizes your workflow. We knew we could provide that for you, and what's coming is far beyond what the internet has seen in this space. But that technology would only be a slice of the accessibility pie necessary to complete the experience. In talking to thousands of individuals in the Stark community and the wider accessibility community, we realized that a core part of the problem with regard to accessibility in technology is an education gap.
The education in this space in and of itself is inaccessible, which we always found to be irony at its finest. And when we can't easily and confidently access and understand the information that is critical to our work and those who use our services, we create an unnecessary wedge between consumers and the trust they have in the innovation intended to solve their problems.
Stark's community is a core pillar to our success, and our efforts to bring everyone closer together with our common mission has been our second pillar from the beginning.
As the Public Library grows, you'll see a number of new features coming that further your ability to learn and grow your knowledge of all things accessibility and your overall experience visiting the library. Some of those things are…
Collections
Many of you have asked for bundles of content that would fit your profession, the specific topic you were reading up on, and the overall knowledge you're looking to consume. Collections allow us to bring together the best of the best content that fit your specific needs.
Events
Remember when author readings at local bookstores were a thing? Us too. While we may not be able to get these folks in the room with all of us just yet, bringing those same phenomenal superstars—from authors to general experts around the world to discuss big topics like accessibility in tech, disabilities, inclusion, and more—into the Stark Public Library is something we're incredibly excited about and eager to share more on.
Community
The Public Library will be a place you as community members can contribute to—from posts you've written (on or off the Stark blog) and work we want to spotlight from community members all over the world, to resources you want folks in the accessibility community to discover and use. And realistically, the days of COVID will eventually be behind us. When it's safe, the Stark Public Library will make its way to a city near you—through our team and many of the Stark members around the world.
For generations, public libraries have been a place everyone could visit; nothing divided us, but the books we buried ourselves in the information we were in search of could be found there. The authors that wrote the stories we so desperately cling to brought us closer together and there we realized: no matter what, we all want the same thing, and share very similar stories. Even when we don't want to make it real by speaking it out loud.
So please, come spend some time in the Library. Learn with us, teach us, and contribute to this very big mission we set out to make the world accessible. Oh and remember those usernames you get to set with your Stark accounts? If you're interested in contributing, you're going to want to ensure your URL is a fancy one. 😉
We've reached a pivotal point in our story at Stark, and while we've got you excited at every turn, we haven't even yet reached the part where you grab your face in disbelief and decide nothing else matters except seeing this story through all the way to the grand finale. It's coming though!
Chat with ya soon.
— Cat and the Stark team
---
To stay up to date with the latest features and news, sign up for our newsletter. And as you're diving in to the new feature, let us know what you think!
Want to join a community of other designers, developers, and product managers to share, learn, and talk shop around all things accessibility? Join our Slack community, and follow us on Twitter and Instagram.