Announcements, Community
Celebrating the 33rd Anniversary of the ADA – and yet, there's still so much work to do
There were 2 major milestones in 1990: the ADA was passed, and the first web browser launched. Since then, the ADA improved the world for people with disabilities, but our digital world lags in accessibility. Let's fix this.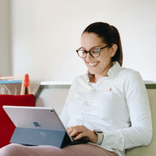 Today, alongside many of you, we're celebrating the 33rd anniversary of the Americans with Disabilities Act. Since this landmark law was passed in 1990, we've seen amazing improvements toward accessibility in physical spaces, employment, transportation, communications, and more. Every day, the changes that were sparked by the ADA directly improve the lives of the more than 60 million people in the U.S. who have a disability.
But you know what else happened in 1990? The world's first web browser and server went live! What a tremendous moment in history for not just technology, but a catapult for humans as a whole. Well, some that is. More than 30 years later, 96% of all websites today still don't meet accessibility guidelines. It's a stat with such enormous scale that is both surprising and concerning. And that doesn't even include inaccessible mobile software, AR, VR, and other new technologies being introduced to us on a regular basis.
Our world today is extremely digital-centric, yet a massive amount of people with disabilities are excluded from accessing their everyday activities. The activities that determine who plays a role in contributing to and benefiting from society. When apps and websites are not accessible, people can't order a cup of coffee, play video games with friends, fully participate at school or work, send notes to a doctor, or enjoy the latest TV show everyone's binge watching.
The fact that both the ADA and web browsers were born in the same year is such a poignant example of the contrasting state of accessibility in our physical and digital worlds. While accessibility in the physical world has dramatically improved over the past three decades, the state of accessibility in the digital world is dismal.
We at Stark want any company with a digital interface to ensure everything made is accessible. Accessibility is table stakes; it's not a nice-to-have set of additional features. It's time for us all to be more driven toward real action, instead of talking about strategy after strategy. In that spirit, we see three tangible ways to put ideas into motion:
Active enforcement of the ADA in the digital world. The European Accessibility Act, which goes into effect in 2025, is already generating urgency and requirements to implement accessibility updates. There are early indications that we're headed in the right direction. The Biden administration just announced new steps to strengthen the ADA and improve online accessibility, and last year Senator Tammy Duckworth and Representative John Sarbanes did some great work to introduce the Websites and Software Applications Accessibility Act. But it's going to take a lot more action in order to implement change. We'd love to see parity with the EAA by clarifying that the ADA applies to all software, both in the public and private sectors.
Implement accessibility standards for more digital forms. The WCAG is clear and actionable…but we have to stop speaking only of web accessibility, especially because it creates the perception that the latest innovation in technology is not critical. Today, 6.92 billion people have a smartphone, yet there is no accessibility standard for these devices. We must have accessibility standards for the many screens we all use today including smartphones, car dashboards, televisions, point-of-sale machines, household appliances, and more.
Add "A" to DE&I efforts and reporting. In his first year in office, President Biden issued an Executive Order on Diversity, Equity, Inclusion, and Accessibility in the Federal Workforce. We love that accessibility is included! We'd like to see all sectors build on this and adapt to DEIA planning, reporting and implementation.
At a meeting at the White House this month with disability rights leaders, Vice President Harris said, "Every person in our nation has a fundamental right to participate fully in our society and to determine their own future, the right to self-determination, the right to dignity. And we, as members of a civil society, have a duty. It is not about a whim or a desire, but a duty to ensure that that promise is a reality for all people in our country."
As designers and developers making the software of tomorrow, we have a responsibility to ensure that participation is possible. The ADA guaranteed disabled people the right to have wheelchair ramps, braille, elevators, and more in public spaces. But in a world that is ever-evolving and providing us with technology that changes what we have access to, people with disabilities have the right to independently, easily, and delightfully navigate every digital space like any other human — without the need to keep demanding for all they've been excluded from.
In a world where we pride ourselves on creating fantastic user experiences for everyone, it's our duty to understand the role our society has played in disabling and preventing citizens from access, and spearhead the creation of a system that includes and is equitable by design.