Announcements
Rolling out Team Management for companies using Stark
Billing and management on Stark just got easier with our new Team Management dashboard! From 5+ members on, you now have access to a sleek interface allowing an admin to oversee your unified billing, subscription, account management, and so much more.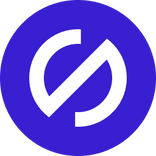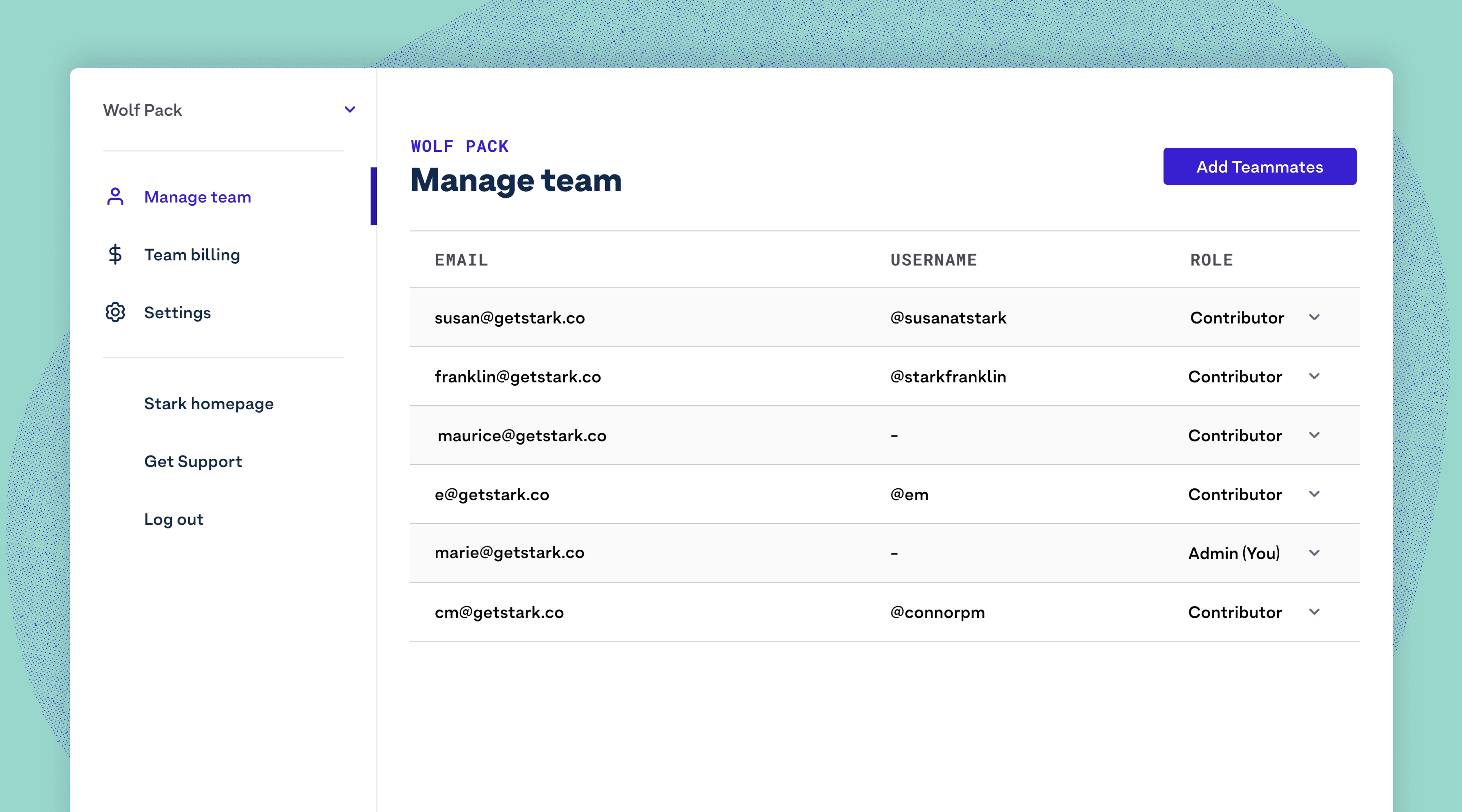 Hey Teams, billing and management for every service is hard, but it doesn't have to be. Stark's commitment is making your job easier, not harder—so today, we're taking one more hassle off your plate. Thousands of teams use Stark on a monthly basis, but many companies require a way to manage the billing for those individuals—with reimbursements for company purchases being a cumbersome process. For the last several months, many of you repeatedly asked for a way to simply manage a team and the organization's billing.
Today, we're pumped to roll out a beautiful Team Management dashboard for organizations of all sizes looking to do exactly that, and have their team use Stark. From 5+ members on, you can now reach out to get your team set up (as quickly as your procurement allows)—with the Stark team ready to help along the way and eager to learn about your needs throughout that process.
After doing so, you'll have access to your dashboard to get started with…
Creating your team
In order to create your team, you'll need to be logged in as an administrator. If you're planning to manage a team and need help getting your personal account to do so, we'll help you once you reach out about the team plan.
Once you log in, select the team you would like to oversee from the account dropdown menu at the top of your dashboard sidebar. Yeah, you got that right, you can manage multiple teams. 😉
For some folks that will be one team, for others it may be teams of multiple projects that are being worked on—be it completely separate projects for organizations (think: agency) or multiple teams within the same company (think: Stark Marketing, Stark Platform, etc).
So before inviting team members to whatever team you're managing, navigate to the Team Settings, and change the Team Name. Nobody external sees this, so feel free to make it fun based on whatever your team prefers.
For example, here at Stark? Our team is labeled "Wolf Pack". 😎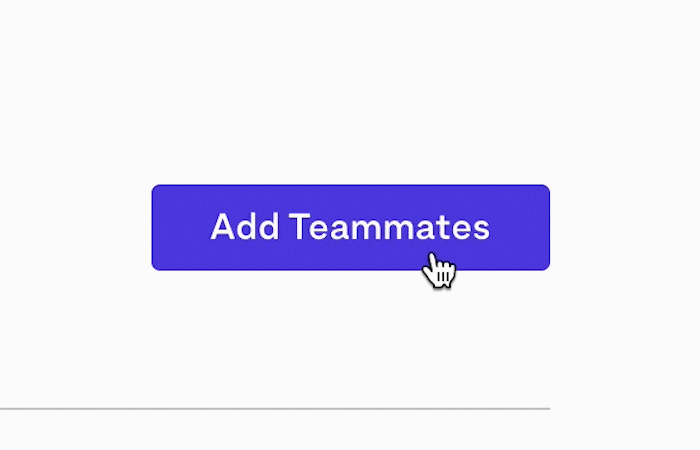 Inviting, adding, and removing team members
Right within the Manage Team tab, invite your teammates individually via email or copy the link to share with everyone at once—allowing them to sign up for an account with whatever email they choose or sign in if they already have a Stark account.
As a team, it may be that you invite some folks now and others later. Feel free to continue adding right from the manage team page or by clicking the invite team button in the lower left corner of your sidebar.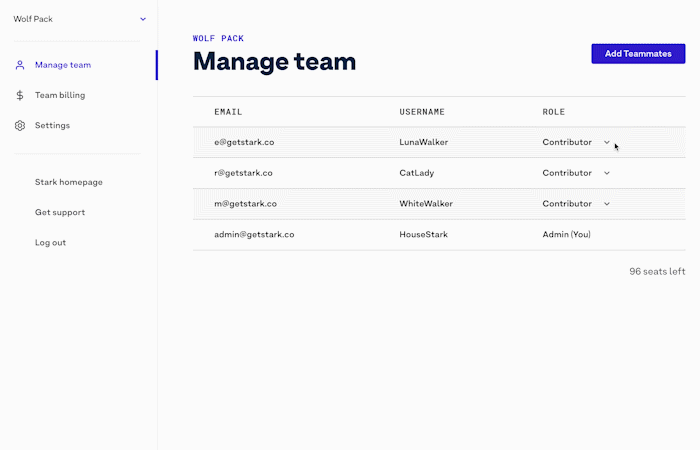 Is a team member leaving? Click on the dropdown menu of their role and select the "Remove from team" option. From there, Stark will confirm this is an action you want to perform. Removing them will free up another seat to be filled for you as well.
Much like on services like Github, you can be an admin of more than one team, your teammates can also have individual Stark accounts that belong to more than one team.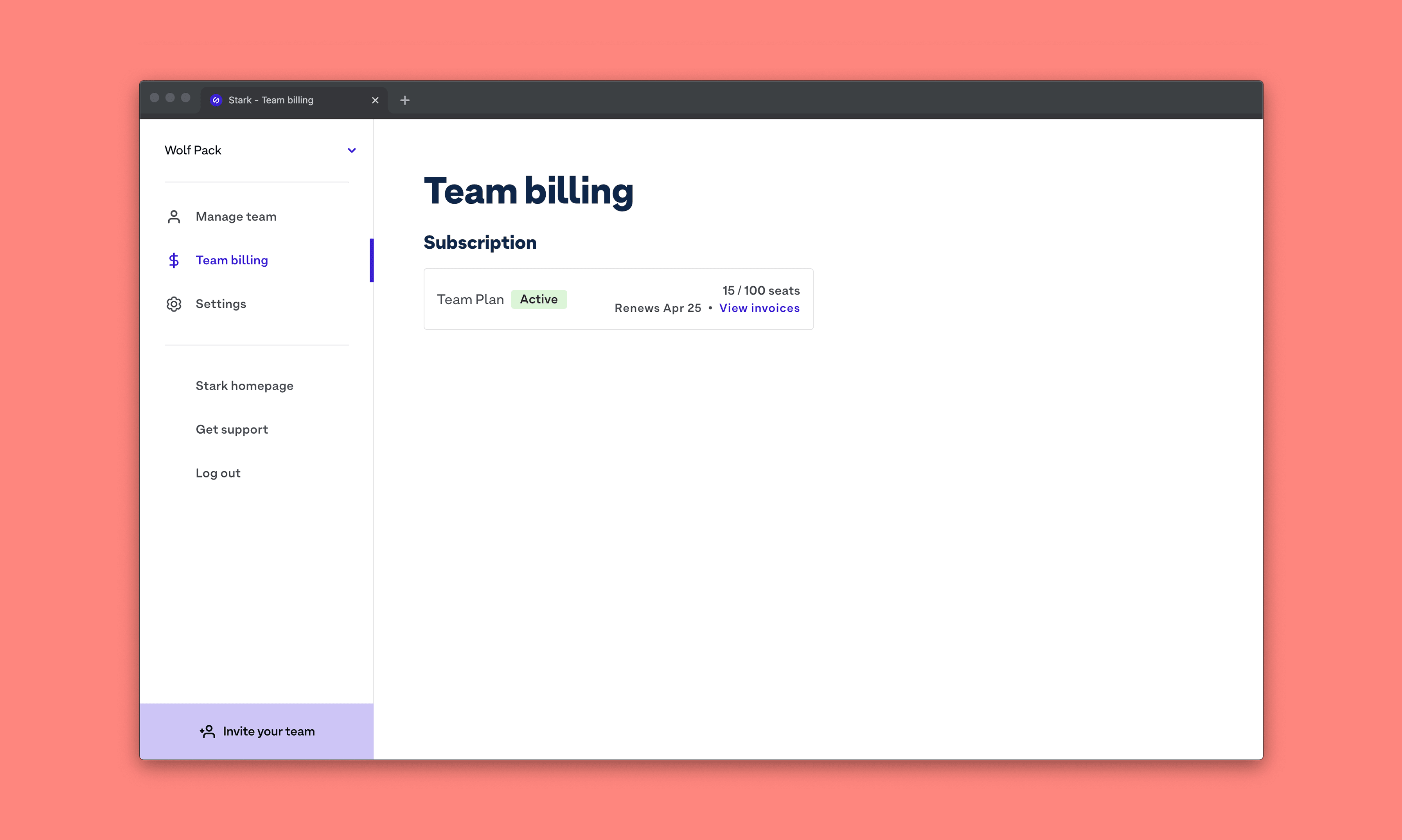 Viewing your billing
The Team Billing page provides an overview of all things pertaining to your Stark account and subscription, like:
Status of subscription
When the subscription renews
Active accounts out of the total purchased
View past invoices
And more…
The great part about our latest setup is that Stark is partnering with Stripe to access and utilize its User Portal. So while you'll notice over the next weeks and months more information visualized for you on Stark's user app, you get an added layer of security and unified information with Stripe.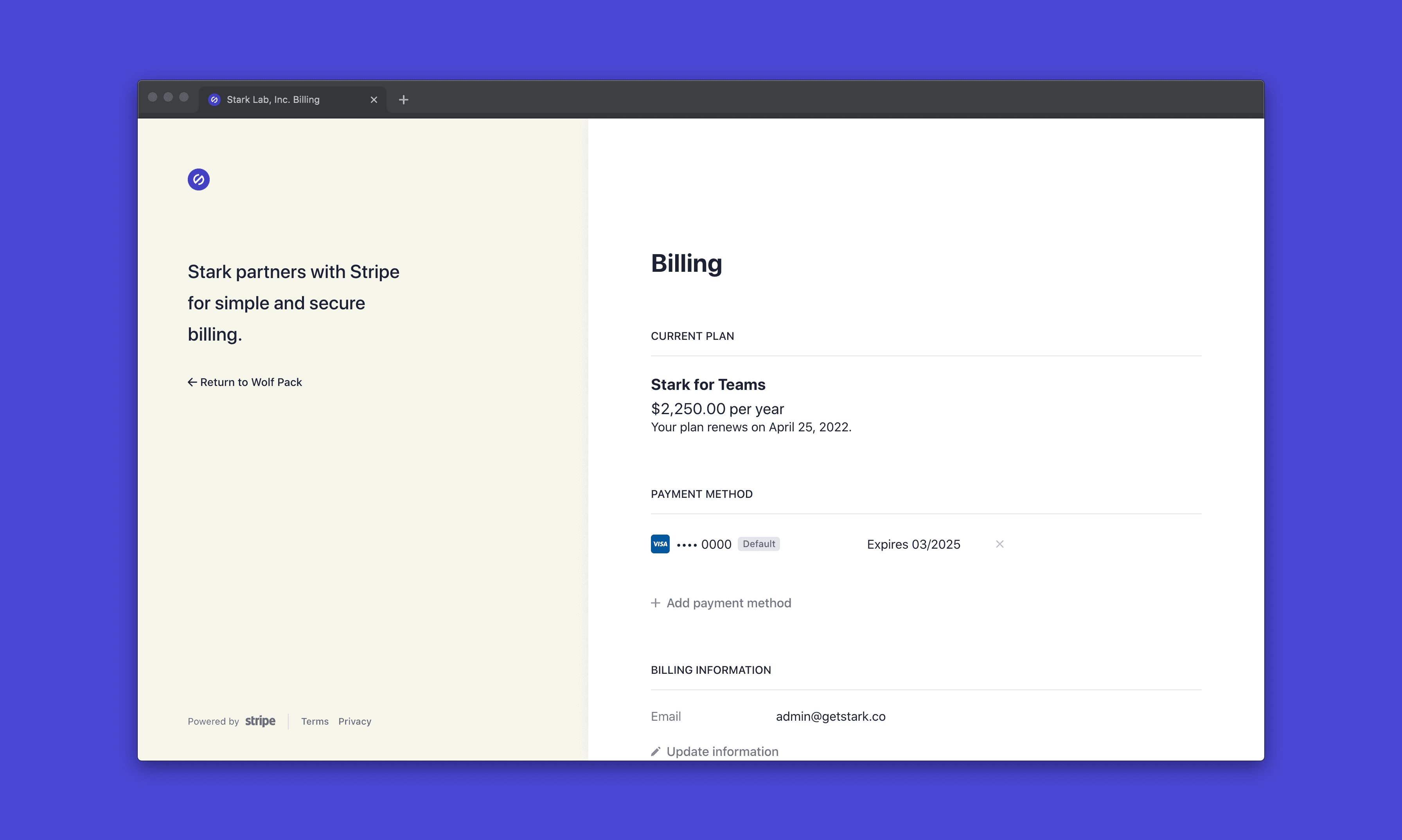 Viewing your Invoices
With our new Stripe user portal integration, viewing your invoices will shuttle you to the Stripe User Portal. From here you can view and download any and all invoices from your time as a Stark customer. Clicking return will take you right back to the Teams Billing page.
FAQ
Can I be a part of more than one team?
Yes, you can! When joining your team via invite, sign up with whatever email account you prefer.
Does billing stay the same if member(s) are added or removed during some point of the year's billing cycle?
Currently that is handled manually by our team. However, in the very near future, upgrading the number of members on your plan, prorating, and signing up without Stark's customer team being needed (unless you do in fact need our help!) will be possible.
Is there a monthly option for team plans, too?
While it's something we've discussed, right now there is only an annual plan for teams. Very few organizations prefer to have monthly, since software and services are budgeted out for annual.
How do I see if a member has received or accepted an invite?
Right now that's not possible, but it's coming very soon.
---
To stay up to date with the latest features and news, sign up for our newsletter. And as you're diving in to the new feature, let us know what you think!
Want to join a community of other designers, developers, and product managers to share, learn, and talk shop around all things accessibility? Join our Slack community, and follow us on Twitter and Instagram.