Press Release
Stark Announces $6M Seed and Unveils All-New Suite to Supercharge Accessibility Across Enterprises
Today, software accessibility leader Stark unveils a new suite of products for software teams, and announces a $6M seed round led by Uncork Capital.
New York City, NY, Aug 10, 2022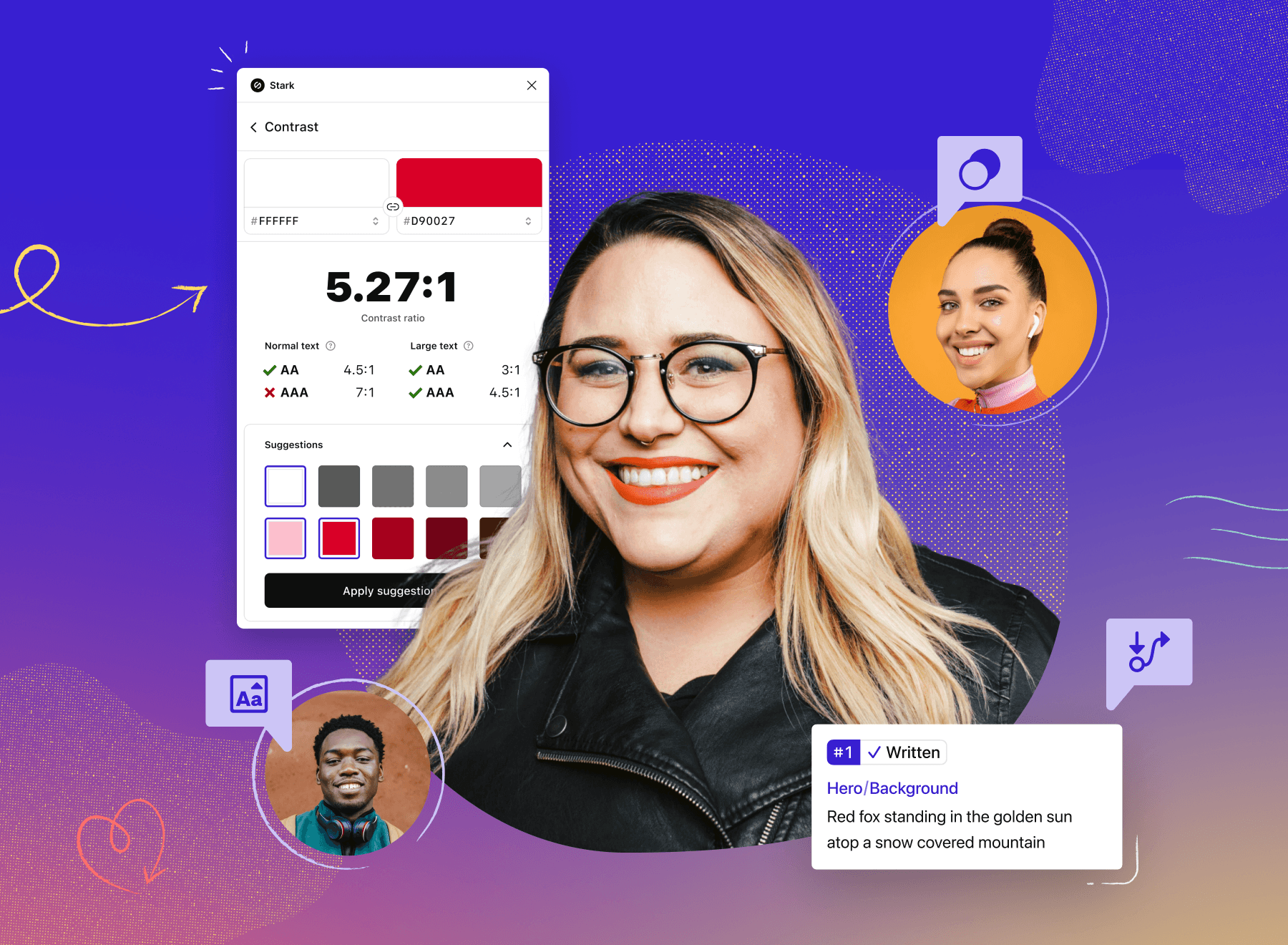 Also participating in the round are Darling Ventures, Indicator Ventures, and some of the best operators, founders, and angels in the software industry, including Jason Warner (former CTO of Github, now MD Redpoint Ventures), Steve King (Product and Accessibility Lead, Canva), Laura Behrens Wu (Founder, Shippo), Des Traynor (Co-Founder, Intercom), and Mathilde Collin (Co-Founder & CEO, Front App).
Stark is the tech company on a mission to make the world's software accessible for everyone, and is now launching an all-new suite of products to make designing, building and testing with accessibility in mind easier than ever. Its original plugins for Sketch, Figma, and Adobe XD have been fully redesigned and updated, with a host of new tools for software teams to design with inclusive products right from the start. In addition, it is introducing a brand-new browser extension for Google Chrome, Microsoft Edge, Opera, and Brave to analyze and test websites, SaaS applications, online shops, and more in the browser of choice. Automation is a key feature of Stark's all-new suite, taking the burden off teams by rapidly identifying accessibility issues and recommending fixes in order for products to meet evolving international regulatory standards.
"It's incredible to see how quickly Stark has become the go-to service for folks at startups and enterprises alike to ensure they're designing accessible software from the beginning," said Cat Noone, Co-founder and CEO. "We'll now accelerate our product development to deliver more intelligent hooks into tools not only designers but also developers, product managers and QA experts use daily. It's about time we replaced outdated, fragmented workflows with modern and intelligent toolchains."
With this new update, Stark meets teams where they are in their accessibility journey by tripling the number of features and now covering 90% of the design-tooling and desktop-browser usage, making Stark the de-facto standard for designing and testing software to comply with the latest accessibility standards. This is the biggest feature upgrade since Stark's initial launch and the launch includes:
Fully redesigned plugins for Sketch, Figma, and Adobe XD that are even faster and easier to use A brand-new browser extension for Google Chrome, Microsoft Edge, Opera, and Brave for rapid accessibility checks of design and code Contrast Checker Vision Simulator + Generator Alt-Text Annotations Touch Targets Typography Analysis Color Suggestions Live Preview in browser Focus Order Landmarks
Everyone can get started with a free account to access a limited set of tools, while Pro accounts unlock unlimited access to Stark's full suite of plugins and browser tools. Organizations can get a Team or Enterprise plan.
"It's increasingly clear how large numbers of people with disabilities have been excluded from accessing software for decades and, in turn, removed as key participants in society. The economic loss for companies and markets is in the trillion-dollar range," said Andy McLoughlin, Managing Partner at Uncork Capital. "The software industry requires a new generation of accessibility tools, and we're thrilled to be backing Stark who, in record time, earned the trust of the industry becoming the go-to tool for modern product makers because they focused on design as the very beginning of the software development cycle. It'll be exciting to watch their future expansion as they become part of the natural installation in the software process."
Stark is also announcing the hire of veteran Chief Design Officer Benedikt Lehnert, one of the leading design executives in the industry who has worked as Chief Designer Officer for SAP and prior to that Director of Product Design for Microsoft Fluent, Office and M365 Experiences. With his track record not only as a corporate design executive but also in the startup community, Benedikt will lead design, customer success, and communications as part of Stark's leadership team alongside Cat Noone and Michael Fouquet.
Stark is revolutionizing how accessibility is built into software. In today's world, 98% of all web content fails to meet the international accessibility standards, and reaching compliance can cost the average company over $5 million. And these numbers don't account for mobile applications and other software such as AR/VR/MR. Since their launch in 2017, Stark always knew that creating accessible software from day one meant building with the community. Today, the Stark community counts more than 25,000 designers, developers, and accessibility experts who are actively sharing their needs and knowledge with each other.
Stark's flagship accessible product development hub, Stark for Mac, will come out of a successful private beta with more than 3,000 participants for a public release later in 2022. Stark plans to use its latest funding round to expand its platform to meet the needs of its growing customer base in teams and enterprises around the world. The company is also pioneering educational resources to make knowledge on creating inclusive technology more widely available.
About Stark
Stark is a category-leading startup on a mission to make the world's software accessible to everyone by streamlining the accessibility workflow in product teams. Through integrated tooling and automation Stark helps accelerate time to compliance – saving teams time, money, and effort. Since its launch in 2017, it has developed a suite of tools that help designers, developers, and cross-discipline teams build accessible products more efficiently and has become the de-facto gold standard used by modern software teams. It also provides educational material for the public, and is supported by a rapidly growing community of experts of more than 25,000 people globally. Stark is used by teams in over 8,000 companies, from cutting-edge startups over governmental organizations to Fortune 500 corporations, with customers including Canva, Microsoft, Pfizer, Visa, Loom, Eventbrite and many more.