Press Release
Stark's New Mac App Will Help Product Teams Find and Fix Accessibility Issues in Record Time
The latest product launch enables teams working on Mac to screen large design files for accessibility issues – empowering them to ensure their software meets latest accessibility standards, build and retrofit accordingly, and be compliant within minutes, not months.
New York City, NY, Sep 27, 2022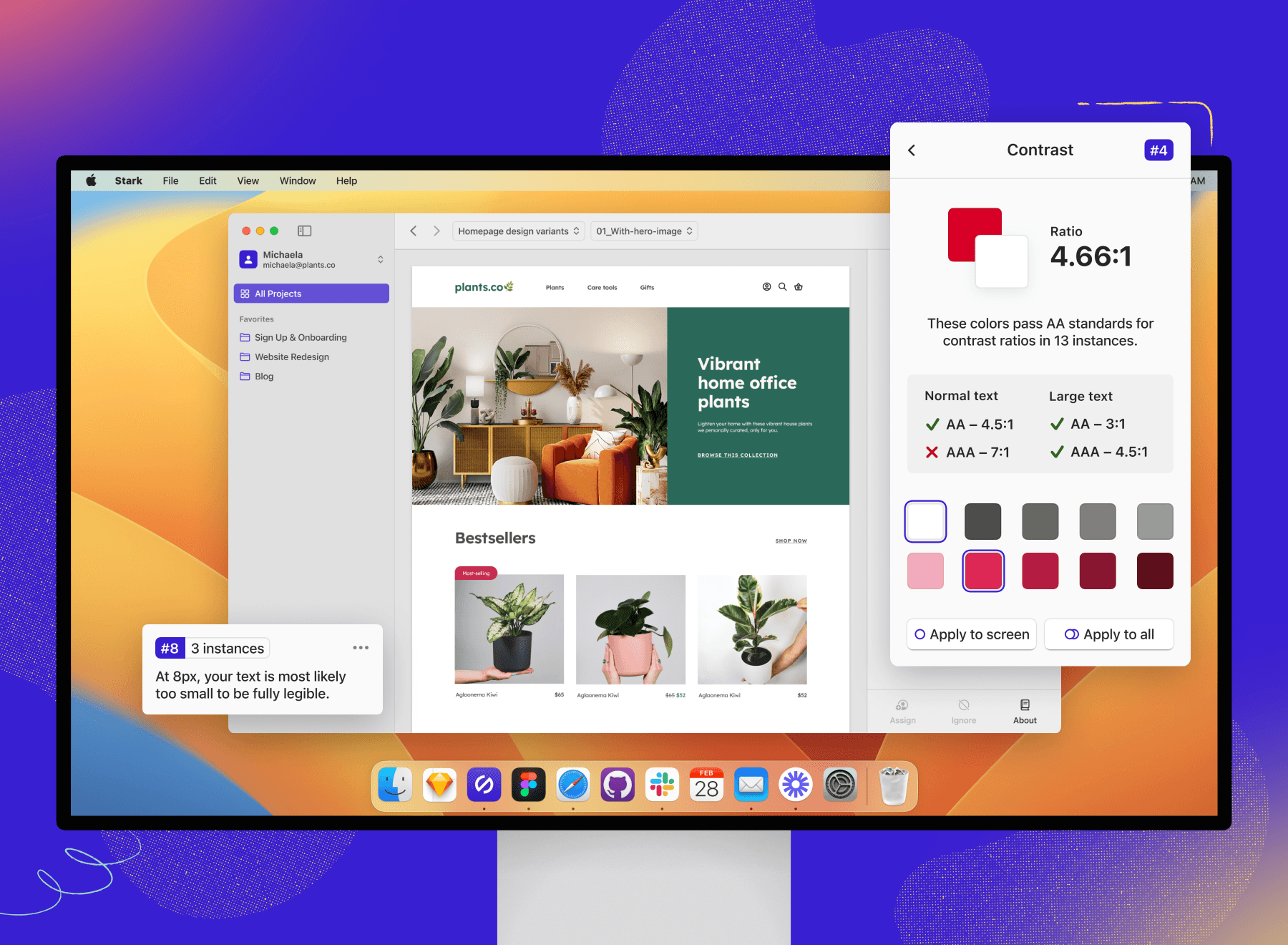 Today, software accessibility leader Stark is launching its Mac app: a tool that makes fixing software accessibility issues, from design to code, faster and easier at scale. Stark for Mac enables designers and developers to build more compliant and usable software by automatically flagging accessibility issues as early as possible in the development process, starting with design. It also improves the time and effectiveness to retrofit large-scale digital content and software to eliminate accessibility issues.
This new launch furthers Stark's mission to make the world's software accessible for everyone. Immediately after importing a design file into Stark for Mac, the app identifies accessibility issues in seconds – whether working on a website, online store, mobile app or SaaS product. Those issues could include missing alt text on images, low color contrasts for people with visual impairments, or missing Focus Order and Landmarks which makes products hard to use with assistive technologies. Stark then recommends changes for meeting accessibility standards that can be applied to the design files with a click. Any changes are always synced and reflected in the design file, ensuring everyone on the team has the latest version.
Large companies often find themselves having to completely overhaul their legacy products, manually checking design and code to become compliant with the latest accessibility standards. That can take weeks, if not months, of teams working around the clock to identify each individual issue and rework the design or code. Studies estimate the cost for fixing usability and accessibility after software is shipped to be up to 100 times higher than fixing them early in the process. With Stark for Mac, the process takes seconds, as teams can upload entire design files and immediately be told where the errors are and what solution is recommended (including snippets of code that can be copy-pasted). What's more, a recurrent design issue – such as non-passing contrast ratios – can be solved simultaneously across the entire product with a single click.
However, Stark believes there is such a thing as "too much" automation because AI can't replace experts to ensure that a software experience is as seamless and human as possible for people with disabilities. That's why their app is more than a blind "fix" for designers or developers. Many automated accessibility tools on the market hook in too late in the development process or simply act as a layer on top of broken content, which generates entirely new problems for people with disabilities trying to use them. Stark wants any accessibility effort to both educate teams and demand their participation in the process. Stark for Mac will only execute solutions with human input, pushing teams to continually educate themselves, cultivate a more inclusive culture across the company, and prevent those same mistakes.
"Stark is the superpower for people who want to make a company's products inclusive - people we call accessibility superheroes," said Cat Noone, Co-founder and CEO. "We make sure they can do it faster and more efficiently than ever before, but they're still the ones overseeing the big picture. Nothing replaces the human touch to ensure software delivers the most seamless and delightful experience for all people."
Stark for Mac is launching following a successful beta with more than 3,000 participants. Its specific features allow designers, developers, QA and others to:
Check contrast ratios for text and colors, and get smart Color Suggestions for meeting the latest compliance standards; update a single design component or rectify all instances of an issues with just a click

Generate simulations of designs to understand how people with different vision types will see and experience them; export images to share with stakeholders, clients and team

Write better alt text for images with clear and actionable tips to help

Define Landmarks and Focus Order to ensure easy navigation

Check font sizes and get recommendations for best readability
Stark for Mac comes shortly after the launch of Stark's new suite of (accessibility) tools, including revamped plugins for Sketch, Figma, and Adobe XD, and brand-new browser extensions for Google Chrome, Microsoft Edge, Opera, and Brave to analyze products for accessibility issues from initial design idea to deployed code and launched product. Each product in Stark's suite serves a particular step in the product development process; for example, plugins for Figma, Sketch and Adobe XD allow designers to continuously check their decisions during the design process, while browser extensions for Chrome, Edge, Opera and Brave allow developers, PMs and QA experts to test deployed products directly in the browser.
Stark for Mac goes beyond these capabilities and allows larger, more complex design files to be analyzed and fixed instantly to speed up the process for teams that deal with accessibility compliance at scale.
"After working for years as a corporate design executive, I've experienced the need and frustration within large companies trying to speed up their accessibility compliance using outdated approaches and manual error-prone workflows," said Stark's new Chief Design Officer Benedikt Lehnert, who was SAP's Chief Designer Officer and the Director of Product Design for Microsoft Fluent, Office and M365 Experiences. "It's incredible to see how a tool like Stark empowers teams of any size to check and fix accessibility issues in their design and code in minutes, saving them significant amounts of money and time while also building a better product for all users. Our team and enterprise customers are especially over the moon that they finally have this technology at their fingertips."
About Stark
Stark is a category-leading startup on a mission to make the world's software accessible to everyone by streamlining the accessibility workflow in product teams. Through integrated tooling and automation Stark helps accelerate time to compliance – saving teams time, money, and effort. Since its launch in 2017, it has developed a suite of tools that help designers, developers, and cross-discipline teams build accessible products more efficiently and has become the de-facto gold standard used by modern software teams. It also provides educational material for the public, and is supported by a rapidly growing community of experts of more than 25,000 people globally. Stark is used by teams in over 8,000 companies, from cutting-edge startups over governmental organizations to Fortune 500 corporations, with customers including Canva, Microsoft, Pfizer, Visa, Loom, Eventbrite and many more.